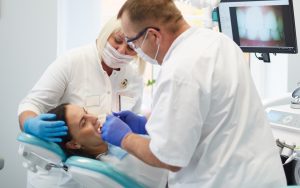 At Cascade Endodontics in Orem, we specialize in root canal therapy and similar procedures. In this post we're going to describe apicoectomies, and why they're needed sometimes.
A root canal, as you may know, involves removing infected pulp from the inside of a tooth. Root canals have a high success rate, but sometimes the infection persists, and can even spread. An apicoectomy addresses this.
In an apicoectomy, the tip of the root is removed. The procedure is done through the gums. After the area is totally numbed, a small incision is made. The infected tissue is taken out, the remaining parts are disinfected, and then it's all sealed up again.
An apicoectomy is a relatively minor procedures, and usually takes from about half an hour to ninety minutes. The time involved depends in part on the tooth being treated. Front teeth, for example, usually take less time than a molar.
Recovery time varies from patient to patient. Most experience minor discomfort, which can be controlled with over-the-counter pain relievers. You'll need to be careful when brushing your teeth, too. Don't skip brushing, but be gentle around the area that was treated.
At Cascade Endotontics in Orem UT, apicoectomies are among our endodontic services. Call our office to schedule an appointment today.
Jon Jenson DDS
Cascade Endodontics
1375 E 800 N Ste 203
Orem, UT 84097
801-404-5810