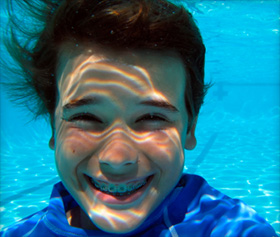 Dental emergencies can happen anytime, anywhere (and often when it's least convenient). Take away some of the stress of your dental emergency by calling Orem endodontist Dr. Jon Jenson!
When you are experiencing extreme toothaches or oral injuries, you don't want to worry about trying to find someone that can treat you. Dr. Jenson, your preferred Orem area endodontist, also provides expert emergency dental care and fast relief for toothaches.
If you're experiencing a dental emergency please call 801-404-5810 as soon as possible! Cascade Endodontics in Utah County near Provo Canyon can usually treat patients with dental emergencies the same day during business hours. Remember, getting emergency dental care within an hour or two of the injury greatly increases the survival rate of the tooth.
"If there is such a thing as a great experience having a root canal, we had one here. They got my daughter in for an emergency root canal within hours of calling. Dr. Jenson was available afterward on his cell phone to answer my questions, remembered doing her surgery, and knew exactly what to do to help her. The office staff was great, supplying us with emergency contact numbers. Post-op instructions were clear and effective. Thanks so much."

"I needed an emergency root canal and Dr. Jenson and his team scheduled me on short notice which I greatly appreciated. Thank you! Dr. Jenson is the best endodontist in the Valley and his staff is extremely attentive and friendly. The recovery process was quick and painless thanks to Dr. Jenson's expertise. I highly recommend Dr. Jenson and his team!"

"Dr. Jenson's office is amazing. I have a SEVERE phobia of the dentist but needed an emergency root canal. Dr. Jenson and his staff couldn't have been more caring or competent. I would recommend them to anyone."

"Was referred here by my dentist for an emergency root canal. Dr. Jenson did the consult at a 4:30 PM appointment and then stayed late to treat me the same day. I had been in pain the whole weekend, and was incredibly grateful. Procedure was fast and I was comfortable. From my experience here, I Highly recommend this location and team."

"Dr. Jon Jenson got me in the same day I had a dental emergency. He did a thorough job completing an in-complete root canal done by another dentist that had gotten infected. He told me exactly what to expect, and his assistant Cydney gave me instructions on how to manage the pain. I was really impressed by how much they cared. The doctor showed me the before and after x-rays so I could see the completed root canal."

"I cannot thank you guys enough for seeing me on such short notice, 4:30 pm on Monday, and doing a root canal so quickly. I left your office without any pain and haven't had ANY since. Thank you so much for everything!"

"Did a great job! I needed an emergency root canal and was in unbearable pain. The whole right side of my face was throbbing with pain. My dentist recommended that I call Dr Jenson and see when he could get me in. The assistant on the phone spoke to the Doctor and said to come right up. What a relief. The friendly, professional staff worked me into their busy schedule and the end of a busy day. I know the Doctor had plans and I probably made him late, but he just got to work and got me free of pain. All done very skillfully and with a smile. Made me feel very comfortable! I will recommend Dr Jenson and his team to anyone needing Endodontics care! Big double thumbs up!! Thanks guys!"

"Dr. Jenson and his staff are exceptional, I had to have an emergency root canal, and the experience felt more like going to a day spa than getting a root canal! From the moment I walked into the office every single interaction exceeded my expectations! My comfort during the procedure was the number one priority for Dr. Jenson and his staff! I felt absolutely no pain or discomfort during the entire root canal, and I had expected to be in quite a bit of pain. I highly recommend Dr. Jenson and his staff for any dental needs you have!"

"I just went to Cascade Endodontics for the first time on my dentist's recommendation. It was the best dental treatment I've ever received. Here's what I loved: --They were willing to come in early to accommodate me short-notice, as I was about to leave the country for two months and had an emergency. --They made sure I was totally numb! They gave me an additional shot when needed and checked in frequently to make sure I was comfortable. --They gave me noise-cancelling headphones for music and a warm blanket. --The used the most state-of-the art equipment I've ever experienced and were more thorough, double and triple checking their work, than anyone I've worked with. --They were efficient and kind. They worked together like clockwork and took care to explain everything."

"Cascade and Dr. Jenson were great to work with. I had a horrible broken tooth that was causing me severe pain. I called Dr. Jenson's office on a Friday morning and they got me in right away, even though they normally don't see patients on Fridays. They did a great job on the root canal and were super fast. Pain-free and happy when I left their office. Thanks, Cascade for rescuing me from my tooth pain!"
Signs of a Dental Emergency
Swelling.
Tooth sensitivity.
Mouth or face injury.
How To Respond to a Dental Emergency
If you are experiencing toothaches or another dental emergency, call Dr. Jon Jenson right away. In the meantime, apply an icepack to the affected area to numb the pain and reduce swelling. If possible, save the tooth so Dr. Jenson can assess the injury fully and provide the best possible treatment. You can also take an over-the-counter pain reliever to minimize discomfort.
Not all dental emergencies can be prevented. However, it's always a good idea to practice good preventative dental care. Be sure to brush and floss regularly and have regular dental exams.  A small amount of effort now can save you a lot of restorative dental work in the future.
Contact Cascade Endodontics for Emergency Dental Care
For emergency dental care and relief from toothaches, call Dr. Jon Jenson in Provo-Orem today!