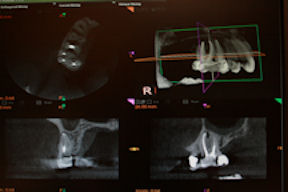 In an ongoing effort to provide you with the highest quality endodontic care, our practice uses 3D image technology. These high quality images allow our Orem, UT, practice to better diagnose and treat, saving our patients time and money.
Provo endodontist Dr. Jon Jenson of Cascade Endodontics was one of the first in the state of Utah to make this technology available to his patients! Even though other endodontists are recently adding this technology to their practice, Dr. Jenson's skill and experience with using the 3D imaging from the CT scanner to determine the best treatment for you and your teeth is unsurpassed.
Our CT scanner is much more than just a digital x-ray machine. The Kodak 9000 cone beam computed tomography (CBCT) can focus only on the area in need of diagnosis, significantly decreasing the amount of radiation exposure.
The ability the CT scanner has to reduce or eliminate superimposition of the surrounding structures makes it easier to visualize areas of interest in three dimensions. This provides much more clinically relevant diagnostic information enabling us to provide better patient care by:
More accurate identification and diagnosis of dental infection.
Visualization of obscure internal tooth anatomy and root canal systems.
Visualization of bone fractures or damage from trauma.
Identification of root fractures and other areas of trauma.
Pre-surgical planning.
More effectively finding the source of your pain.
"Dr. Jenson's office runs like clockwork--with a personal touch. He counseled me wisely on my options, and I chose to go ahead with the root canal. The CT imaging helped my confirm my diagnosis, seeing things the normal x-ray didn't reveal. I felt no pain during the procedure. My anxiety was reduced by Cydney's care (blanket, personal music, frequent suction). This was a more pleasurable experience than any root canal could be. Yes, I'll be referring my 80 year old parents when they need endodontic work done!"

"Best experience. He does excellent work. I've gotten a lot of bad work on my teeth done from dentists the past while and I'm confident that I don't need to worry about anything with Dr. Jenson. My root canal went smoothly. It was quick and easy, no pain, easy to recover afterward. The office is professional and efficient. They don't penny and dime you for every service. They do a full assessment with many X-rays and CT scans and the cost of those just went toward the treatment cost. They gave me an excellent deal for not having insurance. Dr. Jenson is kind and does great at his job. My only wish is that he did more than just endodontic services because I would like him to do all of my dental work! :)"

"The office staff is very friendly and does a great job of scheduling,. I was able to get in when I needed to and I did not have a long wait time. The CT scan is good to make sure nothing is missed. The numbing agent worked very well. Dr. Jenson Is experience and efficient."

"This place is absolutely amazing!!!! EVERYONE here is so kind and sensitive and friendly! I was a nervous wreck and had a lot of tooth pain when I went there for a root canal and they took such good care of me!!!! The communication is perfect about everything and I had Zero pain while I was there - the whole time! I work in the medical field and am super impressed with this place!! I have to go in next week for another root canal and am not nervous a bit! They have state-of-the-art technology that allows them to diagnose and treat their patients to make sure they address ALL of their needs! That is definitely how I felt! I HIGHLY recommend this practice!"

"I just went to Cascade Endodontics for the first time on my dentist's recommendation. It was the best dental treatment I've ever received. Here's what I loved: --They were willing to come in early to accommodate me short-notice, as I was about to leave the country for two months and had an emergency. --They made sure I was totally numb! They gave me an additional shot when needed and checked in frequently to make sure I was comfortable. --They gave me noise-cancelling headphones for music and a warm blanket. --The used the most state-of-the art equipment I've ever experienced and were more thorough, double and triple checking their work, than anyone I've worked with. --They were efficient and kind. They worked together like clockwork and took care to explain everything."

"Cascade Endodontics has a wonderful office. It was clean, orderly and bright. The office staff were pleasant and helpful. I got back to my appointment so quickly! The assistant helping me was professional but so caring. I enjoyed talking with her. She was able to answer all my questions and put me at ease. Dr Jenson was also so great! He answered all of my questions and assured me this was the right thing for my tooth. I was impressed with all the tools they used to make sure my root canal was done correctly. It was also quick! I was in and out in 40 min. I was so impressed because I felt like I received the best possible care and it was done in a timely manner. I would highly recommend Cascade Endodontics. It is worth going to a specialist and having your root canal done correctly."
Contact Us for More Information on Dental Technology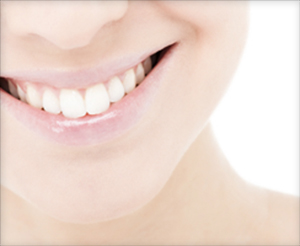 At Cascade Endodontics in Orem, UT, we use the latest in dental technology to help your care be as accurate and safe as possible. With a CT scanner, we are able to see more detail with less radiation than a traditional or digital x-ray.
Come see Provo endodontist Dr. Jenson of Cascade Endodontics and see what a difference a CT scanner can make in your dental care! Contact our office in Orem today by calling our office or filling out the form to the left.