What Is a Root Canal?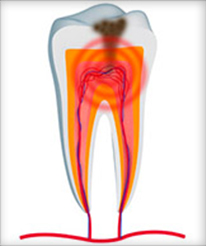 Root canals are one of the most common dental procedures performed at Cascade Endodontics in Orem, Utah. Root canal therapy can save your teeth and prevent the need for dental implants or bridges.
At the center of your tooth is pulp. Pulp is a collection of blood vessels and nerves that help to build the surrounding tooth. Infection of the pulp can be caused by trauma to the tooth, deep decay, cracks and chips, or repeated dental procedures on the tooth.
Symptoms of the infection can be identified as visible injury or swelling around the tooth, or sensitivity to temperature and chewing in the tooth. If you experience any of these symptoms, your dentist may recommend a root canal to eliminate the diseased pulp.
How Is a Root Canal Performed?
Success for root canal therapy occurs in about 90 percent of cases. Here at Cascade Endodontics, we will generally follow these same steps:
We will anesthetize your tooth to eliminate discomfort.
The injured pulp is removed.
Then the root canal system is thoroughly cleaned and sealed.
This treatment may be completed in one or more visits depending on the treatment required. If your tooth is not amenable to root canal therapy or the chance of success is unfavorable, you will be informed at the time of consultation with Dr. Jenson or when a complication becomes evident during or after treatment.
In addition, we will provide dental sedation options for pain and anxiety management. Patients treated by Dr. Jenson are amazed at how painless the root canal procedure can be! You will normally be able to drive home after your treatment and you probably will be comfortable returning to your normal routine.
What Happens After Root Canal Treatment?
When your root canal therapy has been completed, a record of your treatment will be sent to your general dentist. You should contact their office for a final restoration within one month of completion at our office. Your general dentist will decide what type of restoration is necessary to protect your tooth.
It is rare for endodontic patients to experience complications after routine endodontic treatment or microsurgery. If a problem does occur, however, we are available at all times to respond. To prevent further decay, continue to practice good dental hygiene.
"I had 6 root canals done and 1 epicot done. Dr. Jenson was very good with all the work he did. My dental plan didn't cover even half of the price, but he was understanding and is allowing me to pay it off over the next couple months. They give their patients the option to do IV sedation which was great for me, and helpful to those who have anxiety when it comes to dental work. His staff was very friendly and made me comfortable. He also gave me his cell phone number which allowed me to contact him at any time if I had problems."

"My tooth was killing me and they got me in within a few hours. Even going so far as to stay late to help me out. Great experience, they were super nice and friendly. And happy to help. Barely even felt anything - the laughing gas could help with that. And even a few days later I'm feeling great. I highly recommend them for a root canal!"

"Did a great job! I needed an emergency root canal and was in unbearable pain. The whole right side of my face was throbbing with pain. My dentist recommended that I call Dr Jenson and see when he could get me in. The assistant on the phone spoke to the Doctor and said to come right up. What a relief. The friendly, professional staff worked me into their busy schedule and the end of a busy day. I know the Doctor had plans and I probably made him late, but he just got to work and got me free of pain. All done very skillfully and with a smile. Made me feel very comfortable! I will recommend Dr Jenson and his team to anyone needing Endodontics care! Big double thumbs up!! Thanks guys!"

"I am a general dentist practicing in North Orem. Over the years Dr. Jenson has proved to me to be not only skilled and professional but also honest and kind. Due to this trust, I refer and recommend all of my patients, family, and friends to his office that have Endodontic needs. As an added bonus his office staff is amazing as well! If you need a root canal Jon is the guy to see."

"If there is such a thing as a great experience having a root canal, we had one here. They got my daughter in for an emergency root canal within hours of calling. Dr. Jenson was available afterward on his cell phone to answer my questions, remembered doing her surgery, and knew exactly what to do to help her. The office staff was great, supplying us with emergency contact numbers. Post-op instructions were clear and effective. Thanks so much."

"I had terrible pain in my tooth and even though they were busy and booked they fit me in. My root canal was fast and painless. Thank goodness for laughing gas! Cydney is amazing. She's friendly and puts you at ease. The entire process was well organized and I felt like I was in good hands. If you have to get a root canal I would highly recommend seeing Dr. Jenson."

"If I knew how great the experience was going to be, I would have gone sooner. I kept putting off having a root canal until I couldn't bear the pain any longer. The entire staff was friendly and took great care of me. The soft chair pillow and Bose headphones was just an extra touch that made me comfortable and calm my nerves."

"I had terrible pain in my tooth and even though they were busy and booked they fit me in. My root canal was fast and painless. Thank goodness for laughing gas! Cydney is amazing. She's friendly and puts you at ease. The entire process was well organized and I felt like I was in good hands. If you have to get a root canal I would highly recommend seeing Dr. Jenson."

"Ever since I had gone to another dentist, Dr. Sachs in Orem, I have had issues with my root canal. I am BEYOND HAPPY and so grateful, that I found Dr. Jon Jenson. He saw that there was a big infection below my former root canal, which Dr. Sachs never seemed to have seen. Dr. Jenson at Cascade Endodontics was empathetic, efficient and super kind. They got me in within a week and I was able to get it done under sedation. I am terrified of needles, but the nurse anesthetist was incredible and I was asleep in no time, without any hassle. I can't recommend going to anyone else besides Jon Jenson. Great customer service and support as well!"

"Dr. Jenson and staff are the best around, no doubt about it! I have been in the dental field for almost 30 years and without a question, I would send my own family or friends to see Dr. Jenson for ANY root canal or other endodontic treatment needs. I have had 2 root canals done with NO pain by Dr. Jenson. My husband just recently had a root canal done and the office was so nice to work him in on an emergency. The doctor and the staff are all very caring and want to make you as comfortable as possible. I wouldn't go anywhere else but here for my root canals! I promise you won't be disappointed if you go here!"

"Best experience ever. So professional, such competent care. Felt so comfortable. I had very complicated twisted roots, but everything went smooth and when they were done my impression was no discomfort and they were fast. When I mentioned how fast it went I was told it took much longer than usual. Such a pleasant experience compared to a prior root canal done somewhere else. Very little recovery discomfort which I think was because Dr Jenson is really good at what he does."

"Best experience. He does excellent work. I've gotten a lot of bad work on my teeth done from dentists the past while and I'm confident that I don't need to worry about anything with Dr. Jenson. My root canal went smoothly. It was quick and easy, no pain, easy to recover afterward. The office is professional and efficient. They don't penny and dime you for every service. They do a full assessment with many X-rays and CT scans and the cost of those just went toward the treatment cost. They gave me an excellent deal for not having insurance. Dr. Jenson is kind and does great at his job. My only wish is that he did more than just endodontic services because I would like him to do all of my dental work! :)"

"Went to Cascade for my first ever root canal and it was the best dentist experience I have had. His staff was super friendly, and everything happened on time. His laughing gas sedation worked amazingly well, no pain at all during the procedure. Ibuprofen/Tylenol after was all I needed and Dr. Jenson even called me that evening to see how I was doing, he is awesome. I will ONLY go to Cascade should I ever need Endodontic work again."

"This place is absolutely amazing!!!! EVERYONE here is so kind and sensitive and friendly! I was a nervous wreck and had a lot of tooth pain when I went there for a root canal and they took such good care of me!!!! The communication is perfect about everything and I had Zero pain while I was there - the whole time! I work in the medical field and am super impressed with this place!! I have to go in next week for another root canal and am not nervous a bit! They have state-of-the-art technology that allows them to diagnose and treat their patients to make sure they address ALL of their needs! That is definitely how I felt! I HIGHLY recommend this practice!"

"Thank you so much for the service you gave me. I wasn't looking forward to having another root canal and your office made it so much easier! Dr. Jenson, you did such a great job. I've had almost no pain, just a little tenderness. Anytime we need an endodontist, you'll be seeing us!"

"Cascade Endodontics has a wonderful office. It was clean, orderly and bright. The office staff were pleasant and helpful. I got back to my appointment so quickly! The assistant helping me was professional but so caring. I enjoyed talking with her. She was able to answer all my questions and put me at ease. Dr Jenson was also so great! He answered all of my questions and assured me this was the right thing for my tooth. I was impressed with all the tools they used to make sure my root canal was done correctly. It was also quick! I was in and out in 40 min. I was so impressed because I felt like I received the best possible care and it was done in a timely manner. I would highly recommend Cascade Endodontics. It is worth going to a specialist and having your root canal done correctly."

"HIGHLY RECOMMEND! Amazing equipment, efficient staff. Dr. Jenson is obviously very skilled. I had a horrible abscess in my molar and the day after my root canal I had almost zero swelling or pain. They also have noise cancelling headphones so I could listen to my tunes instead of the horrible drilling noises. "

"My appointments experience probably rate on the very top on terms of comfort, efficiency, clarity on information and treatment ( before, during and after ) a root-canal. The office is following all the prevention measures to receive clients in this season of Covid-19 and the staff is courteous and professional. Dr. Jenson did a wonderful job and I could not be more satisfied. Thank you, Cascade Endodontics."

"Dr. Jenson and his staff are exceptional, I had to have an emergency root canal, and the experience felt more like going to a day spa than getting a root canal! From the moment I walked into the office every single interaction exceeded my expectations! My comfort during the procedure was the number one priority for Dr. Jenson and his staff! I felt absolutely no pain or discomfort during the entire root canal, and I had expected to be in quite a bit of pain. I highly recommend Dr. Jenson and his staff for any dental needs you have!"

"Was referred here by my dentist for an emergency root canal. Dr. Jenson did the consult at a 4:30 PM appointment and then stayed late to treat me the same day. I had been in pain the whole weekend, and was incredibly grateful. Procedure was fast and I was comfortable. From my experience here, I Highly recommend this location and team."

"Dr. Jenson is amazing!!! He did a major root canal in 45 minutes with no discomfort from start to finish. I took Tylenol the first day and thereafter have had no pain. I'm extremely happy with the experience and result. Thanks to Dr. Jenson and his assistants."

"I was terrified of getting a root canal but the office was so kind and friendly. I had it done under sedation and it was amazing. Dr. Jenson was recommended by my dentist and was great. I was fearful of the after part as well. I only took ibuprofen that evening but probably didn't even need to do that. I experienced no pain after the numbing wore off and no side effects. I highly recommend him to one and all. Thank you so much!!"

"I had a root canal done and I felt no pain during the procedure! The staff is incredible and Dr. Jenson knows what's he's doing!"

"Dr. Jenson's office runs like clockwork--with a personal touch. He counseled me wisely on my options, and I chose to go ahead with the root canal. The CT imaging helped my confirm my diagnosis, seeing things the normal x-ray didn't reveal. I felt no pain during the procedure. My anxiety was reduced by Cydney's care (blanket, personal music, frequent suction). This was a more pleasurable experience than any root canal could be. Yes, I'll be referring my 80 year old parents when they need endodontic work done!"

"I was very happy I chose this place. I had to get a root canal underneath a bridge so I looked up options and chose them based on the great reviews. I chose to pay for the oral sedation and it was worth every penny. I wish they would've had a quiet/darker room to fall asleep in instead of the love seat in the waiting room..It was difficult to fall asleep with phone calls, other patients, and the lights. But as soon as they took me back and turned on the gas, I was out. Woke up, asked how it was going, "We're all done!" Very sweet staff, very knowledgeable doctor. Incredibly pleased and happy I chose them. They're punctual and that's incredibly rare in the dental world of triple bookings and lots of waiting. Thank you!!"

"I wish there was an option for a sixth star. The staff was friendly, efficient, and professional. Dr. Jenson was amazing. My previous root canal experience was not good. This time it was fantastic. The laughing gas and the headphones playing the kind of music (Pandora)that I love helped me get through this root canal with ease."

"I needed an emergency root canal and Dr. Jenson and his team scheduled me on short notice which I greatly appreciated. Thank you! Dr. Jenson is the best endodontist in the Valley and his staff is extremely attentive and friendly. The recovery process was quick and painless thanks to Dr. Jenson's expertise. I highly recommend Dr. Jenson and his team!"

"I cannot thank you guys enough for seeing me on such short notice, 4:30 pm on Monday, and doing a root canal so quickly. I left your office without any pain and haven't had ANY since. Thank you so much for everything!"
How Much Do Root Canals Cost?
The cost associated with root canal therapy can vary depending on factors such as the severity of damage to the affected tooth and which tooth is affected. In general, endodontic treatment is much less expensive than tooth removal and replacement with an artificial tooth.
Are Root Canals Safe?
Yes. Root canals are not only safe, but they're also a very common procedure. Here are some resources from the American Association of Endodontists:
More Frequently Asked Questions
Contact Us for More Information on Root Canals
Dr. Jenson, your Utah County endodontist, is happy to answer your questions and address your concerns with root canals! He will help you have the information you need to make the best decisions for your situation. Contact our Orem office at the mouth of Provo Canyon today by calling or filling out the form on this page.