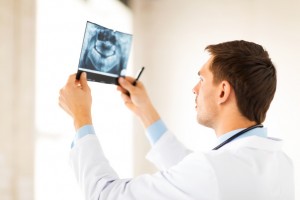 Have you heard of a CT scanner? This recent technology has become fairly common in hospital settings and is an amazing tool those of us in the health professions can use to diagnose a variety of conditions and diseases. A Computed Tomography (CT) scan is able to take detailed x-rays from all angles to create a highly precise 3-D image of body structures.
Cascade Endodontics was the first dental practice in Utah to make this revolutionary technology available to Utah County patients in diagnosing tooth injury, infections, root fractures, cracked teeth, trauma, and much more. Dr. Jon Jenson is able to diagnose with an accuracy and effectiveness unlike ever before with this incredible technology. Staying on the forefront of treatment options and modalities is crucial to offering the best experience for our Utah County endodontic patients.
So how does a CT scanner work? First, the dental patient lies comfortably back on a table attached to the scanner. Then the scanner, which is large and round with the table set in the middle, sends highly specific, tiny x-rays through the body to single out the structure being studied. This is great because we are able to greatly lower radiation exposure by only sending it in tiny amounts to the single spot of concern.
The CT scanner creates 3-D images that Dr. Jenson can use to view the jaw and teeth at every angle, allowing him to provide unsurpassed detail and accuracy in diagnosis. With a CT scan, Dr. Jenson can accurately find the source of tooth pain, visualize damage and bone fractures, and see internal tooth anatomy. This is especially great in planning before endodontic dental surgery, because it means less time in the dentist's chair for you!
We would love to provide you with more information and answer any questions you have about the dental technology we utilize here in our Orem endodontics practice. Contact Cascade Endodontics at 801-404-5810. We look forward to serving you!