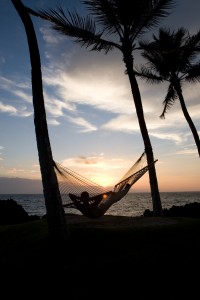 At Cascade Endodontics, we make it our business not only to provide our Orem and Provo patients with the expert dental care they need, but to help them feel comfortable in the process. Most of our patients are pleasantly surprised at how little pain they experience getting endodontic treatment from Dr. Jon Jenson.
Many times, the nerves pick up before endodontic treatment has even started. If you find yourself anxious about upcoming treatment, try this strategy: go to your happy place.
It may be a hammock on the beach at sunset. It may be lying in your comfortable bed with a good book. Maybe your happy place is up on a tall mountain, looking out at a beautiful view after a great hike. Try closing your eyes and picturing yourself there. This mental strategy can help Utah County dental patients remain calm and remember that the treatment they are receiving will lead to better oral health.
Of course, you don't have to do it alone. If you struggle with dental anxiety, we have several options for sedation to help ease those nerves and diminish pain. Ask us about nitrous oxide, conscious sedation, and IV sedation.
You don't need to be nervous or afraid. We want all of our patients to have a positive experience at Cascade Endodontics, so please ask us about sedation options, relaxation techniques, and strategies to help you remain calm and enjoy your time with us.
Dr. Jon Jenson
Cascade Endodontics
1375 E 800 N Ste 203
Orem, UT 84097
801-734-9087
Make the pain go away with a PAIN-FREE root canal!